Although we live in very exceptional times worldwide, Meeting Park continues to serve its corporate clients with great heart, expertise and confidentiality - 24/7 if needed. Restrictions on conference & meeting activities are also easing and it is now possible to hold events and meeting for up to 500 people. Read more in the summary below.
MEETING PARK - OPEN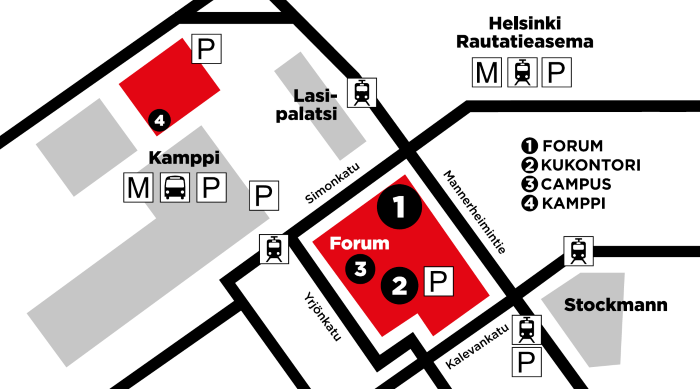 Due to the state of emergency declared in Finland, Meeting Park is adjusting its operations so that during this time the normal "on-call" service is only open at our Meeting Park Forum (Mannerheimintie 20 B) on weekdays from 09:00 to 16:00 Therefore, reservations can still be made to all locations (FORUM, CAMPUS, KAMPPI), including 24/7, but we recommend that you focus your meetings on Meeting Park FORUM.
The rental of Meeting Park's meeting and training facilities will continue as normal, taking into account the regulations and recommendations of the Finnsh Government and the Finnish Regional State Administrative Agency in force at the time. In Meeting Park we take care of e.g. the hygiene arrangements of the event and the adequate physical space provided by the facilities. We will update this information as more guidance becomes available.
The regulation issued on 19 May 2020 by the Finnish regional government agencies, allows general meetings and public events indoors and outdoors for up to 50 people, and up to 500 people with more detailed conditions (including hygiene).
Restrictions do not apply to the normal operation of workplaces and, for example, to internal or private meetings.
MORE FLEXIBLE TERMS
Because of this very exceptional situation, Meeting Park is also working to help its customers, and has therefore made its cancellation policy more flexible as follows;
Reservations made prior to March 17, 2020, and to held on state of emergency period (March 18 - May 13) may be rescheduled to December 31, 2020, subject to availability once, without cancellation or modification costs, with the exception of mandatory third party costs for meals and other arrangements. However, if the New Time Opportunity is not held, we will charge the cancellation and / or modification costs under this initial booking.
With respect to bookings made and to be held during the emergency period, we apply a much more flexible and favourable cancellation policy of our monthly (agreement) customers also

to all

our customer bookings.
At other times, normal booking conditions apply.
VIDEO CONFERENCES - EVEN FULLY VIRTUAL
Meeting Park also helps you organize video conferencing with a laptop or smartphone only, which greatly facilitates remote attendance at meetings, workshops or training sessions. For example, the cost of attending a video conference (remotely) is only € 20.00 / hour + VAT, regardless of the number of people. You might also want to ask about webcasts. Contact our staff for more information.
WE ARE PREPARED FOR CORONA
With 10 years of experience, Meeting Park has prepared for influenza and other infectious diseases. We have significantly increased cleaning times and scope, and further expanded the availability of disinfectants in toilets, kitchens, lobbies and meeting rooms.
Meeting Park has also made changes to the rotation of its own staff shifts and offices, which help to prevent risks to their operations and customers. For Meeting Park, safety has always been a basic starting point, and we take all safety issues seriously.
After each meeting, disinfect / wipe eg. meeting room;
table tops
chair armrests and upper backrests
door handles (inside and outside)
remote controls and plastic end of HDMI cable (gripping)
Every weekday 3-4 times a day disinfected / wiped;
lift buttons (inside and outside)
exterior door handles (inside and outside)
Toilet handles (inside and outside)
Toilet water taps
and other items that are regularly addressed by customers
Meeting Park has already brought to the entrances disinfectants, for our clients coming to our meetings.
RESTRICTIONS TO CUSTOMERS
Persons subject to quarantine must NOT enter Meeting Park premises. We also ask anyone with and close contact with influenza and other communicable diseases like corona to always be aware of the normal risks of infection and to stay at home.
If a person working on a Meeting Park tenant's premises becomes ill with coronavirus and / or is quarantined by a close associate, the Meeting Park staff should be notified immediately. as a normal precaution, carry out basic cleaning and disinfection in the premises concerned. In the event of illness, other persons working in the same premises (rooms) are automatically subject to quarantine by the authorities.
More detailed information can be found from our 3.3.2020 published customer bulletin.
MORE INFORMATION
+358 (0)10 5011 501 / helsinki (a) meetingpark.fi / CHAT at the bottom right
Regards,
Business Meeting Park Oy and its staff,
Mr. Kare Casals
CEO
(updated 30.3. new time from 07.00-19.00 to 09.00 - 16.00)
(updated 1.6. restrictions)