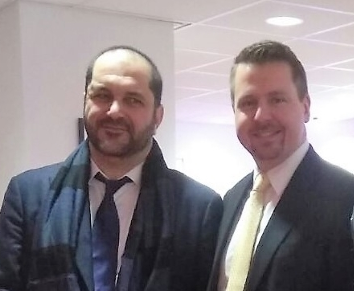 Among many other things, Mr. Pishevar joinded the High-Level Business, Ministrial and Stakeholder Roundtable on Creating the Nordic/Baltic Hub for Innovations in Transport and Logistics: Case: Update on Hyper-Fast Solutions by Hyperloop One.
As informed by MTV3 News on Friday evening, Mr. Pishevar and Hyperloop One are discussing with Mr. Mika Lintilä, Minister of Economy, and Mrs. Anne Berner, Minister of Transport on making Finland one of the world's leading test and innovation hubs for future logistics and transport solutions.
Business Meeting Park assisted in preparing the the roundtable's and the week's agenda.
Mr. Pishevar is Managing Director at Sherpa Capital, and Co-Founder and Executive Chairman at Hyperloop One, founded together with Mr. Elon Mask. He is also a Board Member in Uber, and a major investor in companies such as Uber, Airbnb, Munchery, ipsy, Shyp, Stance, Rent the Runway, PillPack, Doctor on Demand, and Cue Health. Previously he was a Managing Director at Menlo Ventures, a venture capital fund with over $4 billion under management. In 2016, Shervin was selected as an Ellis Island Medal of Honor award winner. Shervin was appointed by the President of the United States to serve on the J. William Fulbright Foreign Scholarship Board (FFSB) in 2015. He was also chosen by the U.S. Government as an Outstanding American by Choice, one of the only 100 naturalised Americans to be chosen since the beginning of the award.
Dr. Jani Kaarlejärvi, Executive Vice-President at Business Meeting Park Ltd., has responsibility for the company's internationalisation, partnerships and business services. Mr. Kaarlejärvi also holds a Visiting Professorship (2013-17) at Beijing University of Posts & Telecommunications (BUPT), in China, in the field of ICT innovations and the economy. Previously he was a director of International projects at DIGILE Ltd. and thus being very closely involved in industrial projects on China, the US, the EU and the Middle East. He has worked also as Special Adviser to President of Finnish Innovation Fund SITRA, Former Prime Minister of Finland, Mr Esko Aho. Kaarlejärvi has three different Master's degrees and has earned his PhD degree from the UK.
Business Meeting Park Ltd. is the fastest growing privately-owned Business Meeting & Office Park in Finland. The company offers a wide range of meeting, conference, training and office facilities, as well as related business services at the very best locations - 24/7. From 2016, Meeting Park has also provided highly confidental exclusive business services - like match-making, partner search and networking servives for domestic and international organizations.
(Photo: Mr. Shervin Pishevar and Mr. Jani Kaarlejärvi in Business Meeting Park)