Although we live in exceptional times worldwide, Meeting Park continues to serve its corporate clients with great heart, expertise and confidentiality - 24/7 if needed. Safety is always the premise of our operations. Restrictions on meeting activities are easing and it is now possible to hold events and meeting normally. Read more in the summary below.
MEETING PARK -

OPEN NORMALLY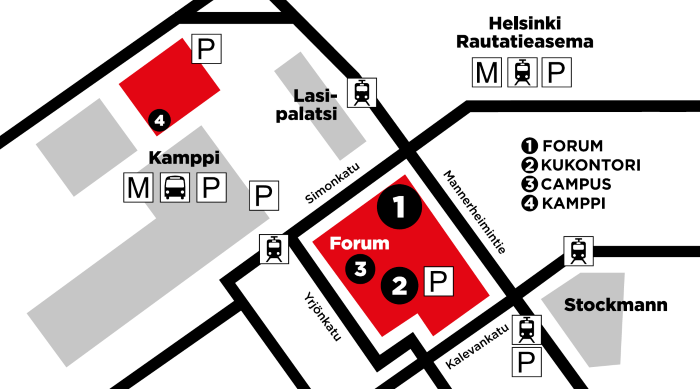 Due to this exceptional circumstances, Meeting Park Forum (Mannerheimintie 20 B) reception is open on weekdays from 09:00 to 16:00 without prior reservation. At all other locations (Campus and Kamppi) we will be present only by prior arrangement or reservation. Therefore, reservations can be made 24/7 to all locations (FORUM, CAMPUS, KAMPPI).
The rental of Meeting Park's meeting and training facilities will continue as normal, taking into account the regulations and recommendations of the Finnsh Government and the Finnish Regional State Administrative Agency in force at the time. In Meeting Park we take care of e.g. the hygiene arrangements of the event and the adequate physical space provided by the facilities. We will update this information as more guidance becomes available.
VIDEO CONFERENCING - ALSO FULLY VIRTUAL
Meeting Park has been one of Finland's largest providers of video conferencing services for 10 years. We use reliable and secure Cisco and Polycom video conferencing equipment. You can also participate in video conferences organized by Meeting Park remotely, even with the help of a laptop or smartphone internet browser, which makes it very easy to participate in meetings, work meetings or trainings remotely from 20 € / hour (VAT 0%) - regardless of the number of people. Hybrid events and streaming are also common in Meeting Park. Contact our staff for more information.
WE ARE PREPARED - COVID-19

SAFE ENVIRONMENT
With 10 years of experience, Meeting Park has prepared for influenza and other infectious diseases. We have significantly increased cleaning times and scope, and further expanded the availability of disinfectants in toilets, kitchens, lobbies and meeting rooms. Meeting Park has also made changes to the rotation of its own staff shifts and offices, which help to prevent risks to their operations and customers. For Meeting Park, safety has always been a basic starting point, and we take all safety issues seriously.
Remember hand hygiene
We recommend using a hand sanitizer when entering the Meeting Park premises, and also throughout the meeting day. Hand sanitizer is available in receptions, toilets, guest kitchens, lobbies and meeting rooms.
Respect safety clearances
We recommend avoiding handshakes and maintaining a safety distance of at least 1 m for other customers and staff in all situations. We also take into account, the regulations and recommendations of the Regional State Administrative Agency, e.g. adequate physical space with space arrangements.
Heat measurement
Guests can voluntarily check their heat at reception with infrared meters without any physical contact.
Breathing mask
Wearing a respirator mask is voluntarily but, it is strongly recommended to use the mask in meeting and class rooms, break and lobby areas, if safety distance of 1-2 meters is not possible maintain or at risk. If necessary, limited respirators are available at reception, which can be purchased for € 1.50 each (incl. 24% VAT).
Continuous cleaning
Meeting Park already carries out enhanced cleaning with over 10 years of experience; After each meeting, we disinfect e.g. tables, armrests, door handles, remote controls and wires.
In addition, every weekday 3-4 times a day we disinfect e.g. elevator pushbuttons, exterior and interior door handles, toilet handles and faucets, and all other items that are regularly touched.
After each meeting, disinfect / wipe eg. meeting room;
table tops
chair armrests and upper backrests
door handles (inside and outside)
remote controls and plastic end of HDMI cable (gripping)
Every weekday 3-4 times a day disinfected / wiped;
lift buttons (inside and outside)
exterior door handles (inside and outside)
Toilet handles (inside and outside)
Toilet water taps
and other items that are regularly addressed by customers
Meeting Park has already brought to the entrances disinfectants, for our clients coming to our meetings.
Information about participants
Meeting Park is a private space and we do not collect information about meetings participants. But, to facilitate infection chain detection, meeting organizers should have (contact) information about all participants.
Restrictions to customers
Persons with respiratory symptoms or in quarantine, may NOT enter the Meeting Park premises - even with a mask.
We also ask those with or close to those with influenza and other infectious diseases to take into account the risks of infection and to stay at home.
Meeting Park staff should be notified as soon as possible if a person that has been on its premises becomes ill with a COVID-19 or is quarantined due COVID-19.
More detailed information can be found from our 3.3.2020 published customer bulletin.
MORE INFORMATION
+358 (0)10 5011 501 / helsinki (a) meetingpark.fi / CHAT at the bottom right
Regards,
Business Meeting Park Oy and its staff,
Mr. Kare Casals
CEO
(updated 30.3.2020 new time from 07.00-19.00 to 09.00 - 16.00)
(updated 1.6.2020 restrictions)
(updated 11.8.2020 about old restrictions)
(updated 17.8.2020 additional information)
(updated 19.2.2021 additional information on opening hours)