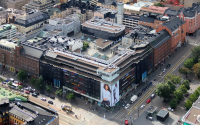 On the 13th of June, from 16:00 we are excited to invite you to meet Funderbeam, the first cross-border FCA licensed angel investing and equity crowdfunding platform in the region, uniquely providing the tradability of investments to investors.
Founded in 2013, Funderbeam has connected investors from 119 countries around the world with companies from 8 different countries. Collectively raising over €13million and over 9,000 trades completed, Funderbeam offers ability for investors to find opportunities and maintain liquidity.
Join us in the Helsinki Business Meeting Park, for an afternoon of networking and a fireside chat including Q&A about investing and trading of early-stage growth companies. Investors have the opportunity to hear and learn about new ways to invest, make previous locked investments tradable and network with like minded angels in the region. Founders and potential fundraisers can hear from a serial successful Lead Investor and how the campaigns have helped drive growth in the businesses.
Agenda:
16:00 - Doors Open
16:30 - Fireside chat with Urmas Peiker (Funderbeam's Co-Founder) and Madis Müür (Serial Lead Investor) moderated by Ardo Mardisoo (Funderbeam's Head of Baltics and Finland). Topics will include a look at the landscape of Alternative Finance in the Nordics and Baltics, Cross border investing and ways to add liquidity to your past or future investments.
18:30 - Networking
19:30 - Doors Close
Please make sure to RSVP if you plan to join us.
Entrance: Mannerheimintie and Simonkatu "glass corner", and from FORUM Shopping mall 3th level's corridor.
How to Find Us: in PDF
Sisäänkäynti: Mannerheimintien ja Simonkadun Lasikulmasta, sekä FORUMIN 3. kerroksesta käytävää pitkin.
Saapumisohje: PDF