Catering
Now we have also meeting packages!
Meeting packages / Half day (4h) Meeting packages / Full day (8h)
Basic catering list:
Sweet Salty Breakfast Lunch Special Events Dinner Drinks Service fees
Catering Price list
VAT 0%
incl. VAT
Top DRINKS / PCS
Coffee & Tea
3,80
4,30
Coffee & Tea all day
11,80
13,50
Special coffees
Ask for an offer
Still or mineral water (bottle)
2,90
3,30
Soft drinks (bottle/can)
3,40
3,90
Juice 1,0 l
4,60
5,20
Non alcoholic glogg
3,80
4,30
Top SWEETS / PCS
Sweet (roll or bun) of the day
3,40
3,90
Assorted cookies
1,00
1,10
Macarons (min. 4 pers.)
2,60
3,00
Cakes and pies
Ask about the choices
Top SALTY PASTRIES / PCS
Salty pastry of the day
4,90
5,60
Croissant (no fillings)
2,50
2,90
Croissant / filled (filled with turkey, cheese, salad, tomato, and cucumber)
4,90
5,60
Brie croissant (min. 4 persons) (brie cheese, strawberries, balsamico syrup)
6,50
7,40
Sandwich or bread / filled
(filled with turkey, cheese, salad, tomato, and cucumber)
4,90
5,60
Filled flatbread (min. 7 persons)
(filled with turkey, salmon, or vegetables)
4,90
5,60
Avocado sandwich (min. 4 persons)
(filled with avocado, sun fried tomato, rocket, balsamico, vegan cream cheese)
6,90
7,90
Shrimp sandwich
(filled with shrimp, mayonnaise, salad, lemon)
9,50
10,80
Salmon sandwich (min. 8 persons)
(filled with salmon, cream cheese, salad, cucumber, lemon)
9,50
10,80
Carelian pastry (no fillings)
2,30
2,60
Carelian pastry / filled
4,90
5,60
Quiche pie
6,60
7,50
Side salad
4,40
5,00
Tomato-mozzarella salad
4,80
5,50
Top BREAKFAST/ PRS
Buffet breakfast (min. 10 persons)
11,30
12,90
incl. coffee/tea, juice, white and brown bread, vegetables, fruits, cheese, turkey, as well as muesli and yoghurt.
Business breakfast (min. 8 persons)
Ask more about the menus
Smoothie (4 dl)
6,50
7,40
Vegetable shots (ginger, chili, beetroot, or celery)
3,00
3,40
Fruit
3,40
3,90
Fruit bowl
4,40
5,00
Yoghurt bowl
(natural yoghurt, muesli, berries, honey)
4,40
5,00
Top LUNCH OPTIONS / PRS
Lunch at a restaurant (with table reservation)
14,50*
16,50
Lunch can also be arranged in the immediate vicinity; for example;

Lunch salad (delivered)
13,20*
15,00
Lunch sandwich of the day (delivered)
8,90*
10,10
Lunch of the day (delivered)
15,50*
17,70
Business lunch - Ask more about the menus (min. 8 persons)
18,30*
20,90
incl. Starter salad, bread, warm dish, dessert, coffee, tea and water
Sushis
Ask about the selections
*Lunch prices are valid on workdays between 10 am and 2 pm. Ask for an offer for orders outside lunch time.
Top DINNER
Business dinner - Ask more about menus (min. 8 persons)
incl. menu, coffee, tea and water
A la Carte salad
Ask for an offer
Top COCKTAIL SNACKS
Ask about the choices and we will make you an offer
Top SPECIAL EVENTS
Antipasto plate / person (min. 8 persons)
9,90
11,30
incl. for example prosciutto, salamia, different cheeses, olives, grapes, honeydew, crackers, baguette
Sushi Party platter (64 pcs)
105,00
119,70
Sushi Party platter (96 pcs)
149,90
170,90
Sushi Party platter (120 pcs)
185,00
210,90
Top TABLEWARE
Billed only when ordered without our catering (only dishes).
Ask for the prices
Top SERVICE FEES
Business table setting, serving and cleaning / person
1,20
1,50
Express Delivery / person/product (charged with catering orders made with a shorter notice than stated in our order terms)
2,00
2,50
Cleaning Services / hour
40,30
50,00
Top
Terms and info
Prices are quoted without VAT (tax) and with VAT.
Prices are valid on all Meeting Park locations in Helsinki, Finland.
Lunch prices are valid on workdays between 10 am and 2 pm.
The product range is indicative and dependent on the availability of products and raw materials.
All prices are reviewed cost increases, respectively.
Binding catering orders must be made no later than five (5) working days prior to the event, and the final changes three (3) working days prior to the event. When placing an order, please notify any diets and allergies. We strive to deliver orders also with a shorter notice, but we have the right to charge an express delivery payment with these orders.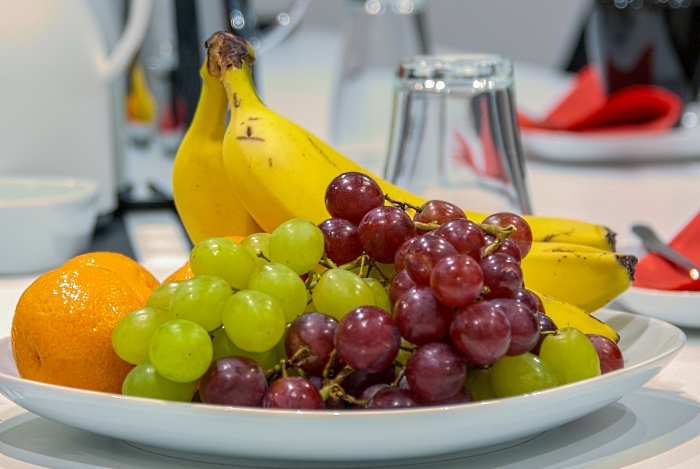 We recommend
Filled Croissant à 4,90 € Breakfast buffet à 11,30 €
incl. coffee/tea, juice, white and dark bread, vegetables, fruits, turkey and cheese, as well as muesli and yoghurt.
The prices do not include VAT.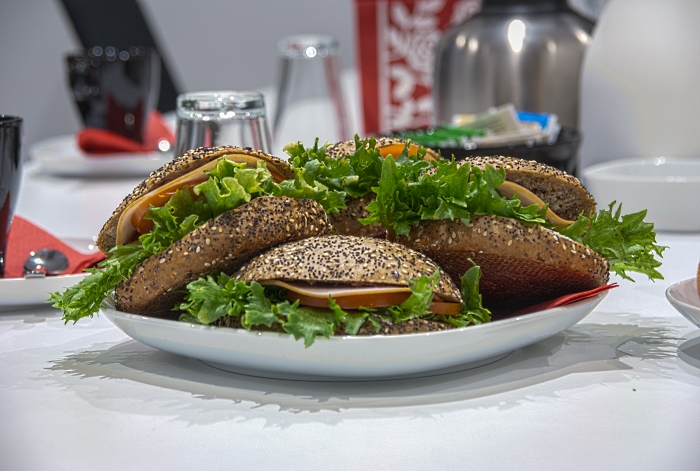 Main partners
Restaurants/ Forum
Italian restaurant. Traditional Italian restaurant culture. From Italian pizzas to the best pieces of pork cheek and lobster. Modelled authentic Italy, from south to north.
Location: FORUM Shopping Center, 3th floor.
Restaurants / Kamppi
Wine and Craft beer restaurant.
Location: Narinkkatori, Annanaukio 1, 1st floor.
Special Orders
News Catering is a full service catering company that is known for excellent food and wide selection of different types of menus.
- Only by delivery -
Hanko Sushi is Finland's largest sushi restaurant chain. The first glimpse of the Sushi Bar was established in summery Hanko. Connecting the spirit of Finnish archipelago and Japan - the new restaurant was chain a big success. The selections include seafood such as vegetarian options. Our popularity is based on fresh raw materials, tasty portions and uncomplicated service.
Location: FORUM Shopping Center, 3th floor.
- Only by delivery -
Myös muita vaihtoehtoja
Other catering options are also available for special occasions. Own catering is also permitted. We recommend to inquire more information from our staff :-)