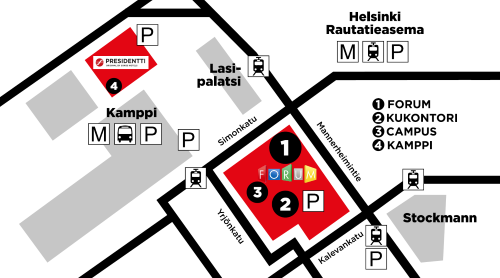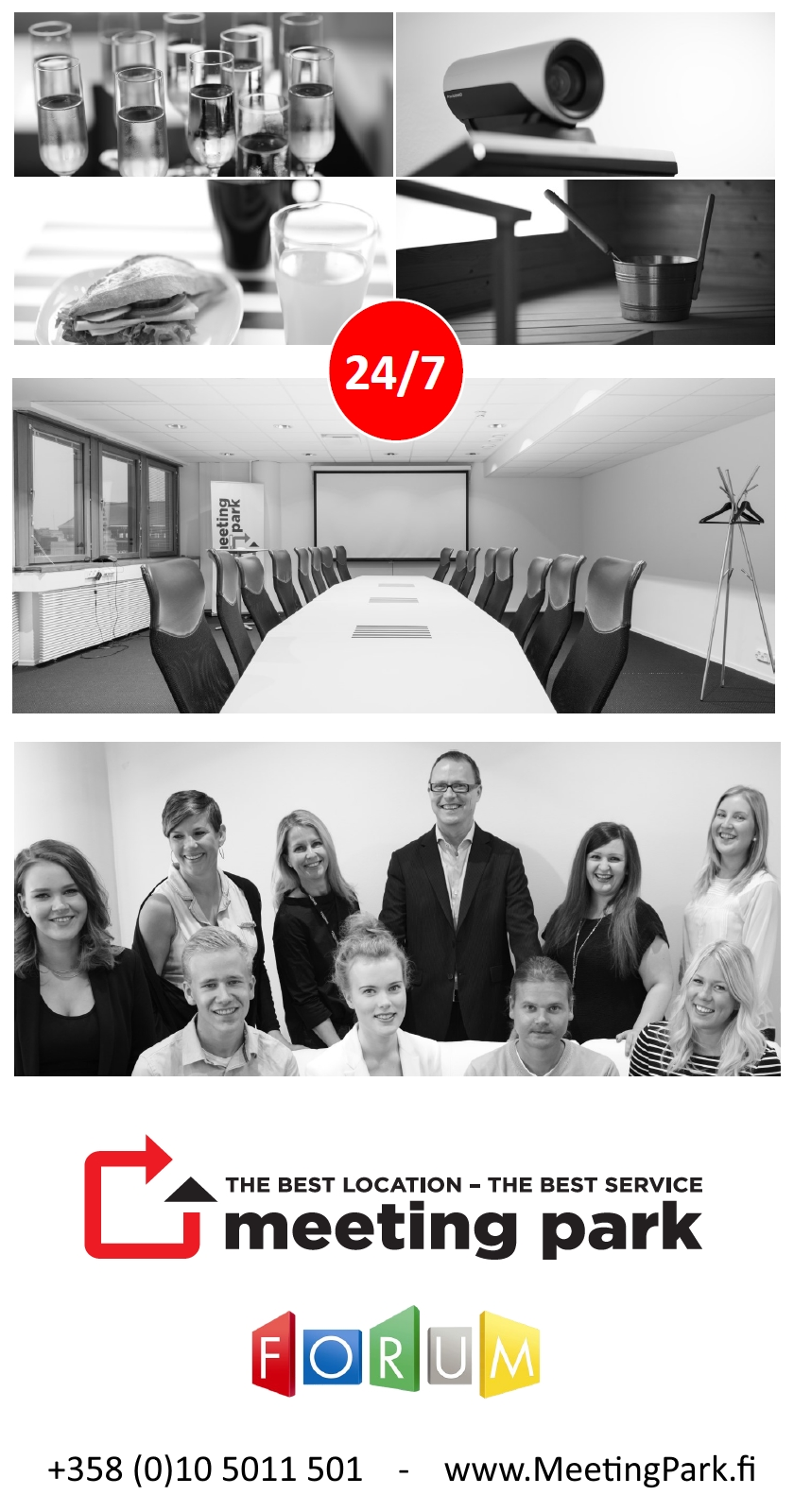 A wide range of meeting facilities at the best location
Meetings
Nearly 40 different representative states; large table, sofa, U, O, etc. shapes - up to 150 people.
Trainings
Several different sized classes ranging from 10 people to 130 people in class format.
Seminars & Congresses
Large meeting rooms can be combined to provide separate lecture, group work and presentation rooms. The maximum number of people in the seminar room is 150.
Workshops
Choose space, furniture and equipment; with or without tables, chairs, sofas.
Video conferencing & webinars
Video conferencing (Cisco & Polycom) and webinars (including Youtube) are possible in all rooms.
Arbitrations
A safe environment trusted by years of experience also for international arbitration proceedings.
Celebrations and representations
Parties, Cocktail and other representations at the Meeting Park Forum for 150 people and on Meeting Park Campus (also in Forum) for up to 300 people.
Mini trade fairs and events
Our 730 m2 center offers the opportunity to organize, for example, your own mini-fair in addition to the seminar.
over 1000 bookings per month
With professionalism & a big heart since 2011.
Professional & Confidential service - 24/7
Already with over 75,000 meeting experience.
Personal service - 24/7
Our familiar warm and customer - friendly staff is always on site to receive, guide and support you and your customers - up to 24/7.
Food & drink
Full service catering. Lunch can be enjoyed in the meeting rooms, lobby and lounge area, or in the restaurants. Own lunches are also allowed.
Video conferencing
All of our facilities are standard or capable of genuine secure video conferencing (Cisco / Polycom). You can also take part in these around the world with an Internet browser on your computer, Pad or mobile phone.
Webinars & recordings
All facilities also have facilities for Webinars (webcasts) which can be followed, for example, via Youtube, openly or by invitation, and these broadcasts can be recorded.
Conference calls
Most facilities are also available for conference calls.
Address & Postal services
Official address and mailbox, mail handling & forwarding, reliable and fast courier service.
Assistant services
Our staff is happy to help with any occasional and permanent needs, in collaboration with our partner network.
Technical support
24/7 on-call technical support is on hand in minutes if needed. Support can also be ordered to be on call for the duration of the event.
Security
We provide a confidential (NDA) environment. We are also able to meet the security requirements and arrangements of Finnish and international authorities. Our premises have 24/7 security.
Event registration
Take advantage of our registration service to register and manage events.
Event Organizer
Huolehdimme puolestanne tarvittaessa myös kaikista tilaisuutenne käytännön järjestelyistä vuosien kokemuksella.
Project manager
Organizing events involves a lot of planning and changing parts; leave all worries and stress to a professional - and enjoy the opportunity!
favorite
10 GREAT REASONS
favorite
Central location
Right in the heart of Helsinki, in the FORUM shopping center, between the railway station, Kamppi and Stockmann.
Excellent connections
Within a radius of 100 m you will find everything; train station, trams, metro, bus station and parking garages - access also on dry feet.
Secure and confidential
Due to the general obligation of confidentiality, we are able to provide a confidential environment e.g. contract negotiations and arbitration.
Elegant & bright spaces
All representative spaces have windows and are equipped with functional, safe and in-service tested technology.
Easy and uncomplicated
We strive to make everything as easy as possible for our customers.
Wide range of services
In addition to its own services, the Forum also offers the services of more than 140 shops, cafés and restaurants.
Flexible approach
We understand the rapidly changing needs and desires of our customers. Pricing and terms allow for flexibility.
Simple open pricing
We value simplicity and transparency. That's why we have fixed "all inclusive" pricing and only a few price categories that are valid everywhere.
Versatile equipment and readiness
All facilities are fully equipped and have e.g. versatile technical capabilities for video and telephone conferencing.
Professionally already 75,000 bookings
At your service since 2011. Our services are used by almost 2,000 companies for more than 10,000 bookings every year.
Simple & Transparent Pricing
Examples of lounge, meeting and class room prices for a casual (no contract) customer.
Even lower prices and terms for contract customers. The same prices apply at all outlets.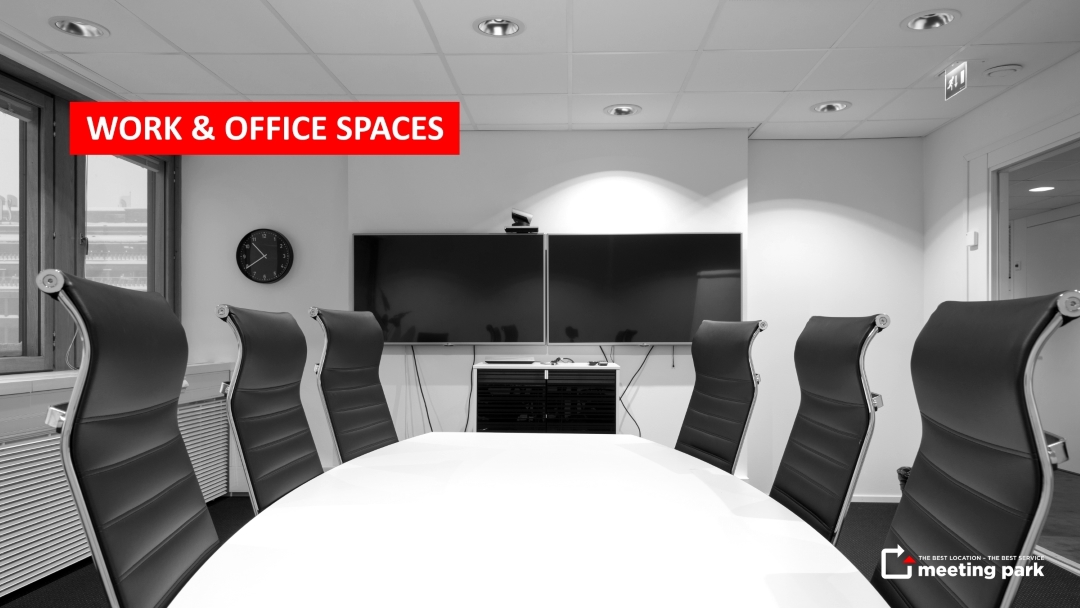 Meeting rooms
12 m2
25,00 €/h
Includes fully equipped space/room for 2-4 persons, shared lounge access, 1Gb/s internet with backup connections, magazines.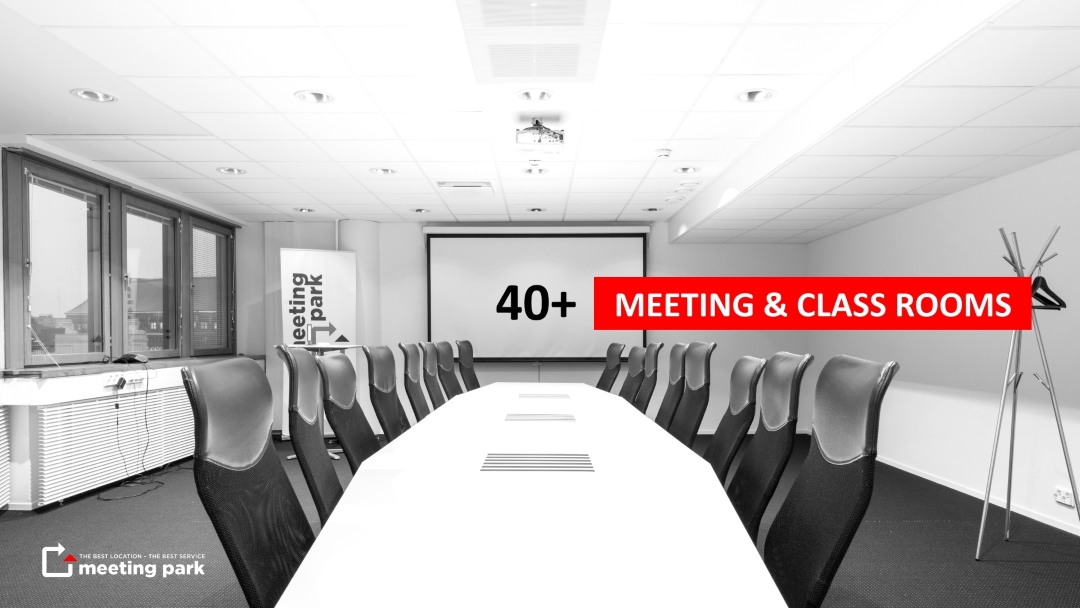 Meeting rooms
<40 m2
50,00 €/h
Includes fully equipped space/room up to 20 persons depending on the space, shared lounge access, 1Gb/s internet with backup connections, magazines.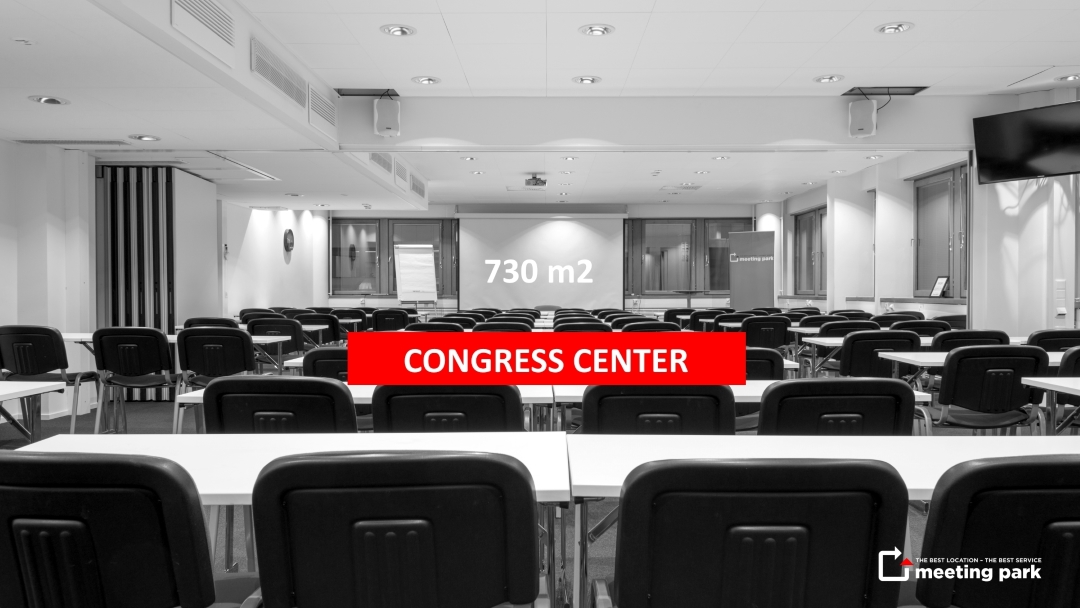 Meeting rooms
<80 m2
100,00 €/h
Without catering 150,00 €/h
Includes fully equipped space/room up to 60 persons shared lounge access, 1Gb/s internet with backup connections, magazines.
Rooms can be combined for up to 120 person with tables, 150 with only chairs, and 300 for special events.
Prices are valid in all locations, regardless of the number of people or space furniture.
For regular customers up to 70% lower prices & more flexible terms.
Hourly rates are valid on weekdays and Saturdays from 06:00 to 22:00. At other times, ie at night (22.00-06.00) and on Sundays, we charge casual occasional customers an on-call charge of +50% of the hourly price of the room in question. Monthly customers can use their reserved premises independently 24/7 with their own keys. We reserve the right to change the price. All prices quoted are exclusive of Finnsih VAT (VAT 0%). The current Finnsih VAT is added to the prices.
Book now
and get a

-50%

discount
The tour offer applies to the rent of the space and only the first booking of the organization, and cannot be combined with other offers.
Frequently Asked Questions (FAQ)
You will find answers to more common questions in the headings below.
Are you open 24/7?keyboard_arrow_up
Yes - by prior arrangement we are open 24/7 - also on holidays. Normally, our staff serves the Forum office on weekdays from 07:00 to 19:00.
room_serviceDo you have a reception and a hostess / host on site?keyboard_arrow_up
Yes - our staff is on site to receive and guide customers whenever the office is normally open or by reservation. Loyal customers (Contract Customers) can meet and use the reserved premises independently around the clock with their own keys.
What is the equipment of the premises?keyboard_arrow_up
All meeting rooms are fully equipped. These include e.g.
- large windows
- big screen or video cannon
- flip chart (t)
- giga internet connections
- efficient ventilation
- dimmable lights (in most)
- good attenuated acoustics (no echo)
- sound secretion
- audio playback (in part - ready in all)

as well as capabilities e.g.
- telephone conferences,
- video conferencing
- for webinars

More detailed information on the space and equipment can be found in the presentation information for each room.
Are there any adapters to connect the monitor?keyboard_arrow_up
Yes - we have a lot of different adapters for connecting computers and pads to monitors and video guns (HDMI), but if you have your own adapters, we recommend that you bring ;-)
laptopNeed to bring your own presentation machine?keyboard_arrow_up
Recommended but not necessary. You can rent a basic PC presentation machine from us for the occasion, but we always recommend using your own computers, e.g. for security reasons.
videocamWill webinars and video conferencing succeed?keyboard_arrow_up
Yes - all of our meeting rooms are capable of video conferencing and webinars (e.g. Youtube). Some meeting rooms come standard with Polycom's or Cisco's genuine Full HD video conferencing systems. You can also participate in video conferencing via an Internet browser from your own computer, pad or mobile phone. We are also Helsinki's largest provider of video conferencing facilities and services - with 7 years of experience.
Can I get technical support?keyboard_arrow_up
Yes - we always have a 24/7 on-call technical expert who is on hand in a few minutes if needed. Technical support can also be ordered separately to be on site for the duration of the event - for example, during a webinar.
fiber_newAre you a new player?keyboard_arrow_up
No - We have served in several locations since 2011. Every year, our services are used by almost 2,000 organizations and there are more than 10,000 reservations per year.
euro_symbolSame prices everywhere?keyboard_arrow_up
Yes - Our pricing is completely transparent and made as easy, clear and predictable as possible;

All MEETING FACILITIES (more than 40) are divided into only two (2) price categories, less than and more than 40 m2, within which all rooms are equally priced regardless of size, number of participants and location, and thus freely chosen by customers;

- facilities under 40 m2: € 50.00 / hour
- facilities over 40 m2: € 100.00 / hour or € 150.00 / hour without catering.

All REMOTE WORK SPACES are also divided into two (2) price categories;

- Work rooms (approx. 12 m2): € 25.00 / hour
- Workstations (table space): 10.00 € / hour

Hourly rates are valid on weekdays and Saturdays from 06:00 to 22:00. At other times, ie at night (22.00-06.00) and on Sundays, we charge occasional customers an on-call surcharge of +50% of the hourly price of the room in question. Monthly customers have their own contract prices, which can be up to 40% cheaper, and they can use their reserved premises independently 24/7 with their own keys. The current VAT is added to the prices.
Are there meeting packages?keyboard_arrow_up
Yes - we also offer meeting packages where costs are based on the number of people. In this case, the price per person includes the selected catering and meeting space. Meeting packages are invoiced according to the catering, in which case the VAT is 14% (8/2018).
restaurantCan I get food?keyboard_arrow_up
Yes - we offer full service catering. For example, lunches can be enjoyed in the conference rooms, outside the meeting rooms in the lounge area or in restaurants in the immediate vicinity - for example in the Forum inside the same house. We do not sell alcohol ourselves, but it is possible to organize it for private events, for example.
restaurantCan I bring my own snacks and dishes?keyboard_arrow_up
Yes - we are not jealous ;-) Guests can take advantage of their own catering suppliers and bring their own snacks and drinks. If necessary, you can also rent things and cleaning, as well as catering.
What are the customer's responsibilities and obligations?keyboard_arrow_up
The customer is obliged to protect the premises and furniture he leases from damage. The Subscriber shall be liable for any damage caused to the property or movable property by the Subscriber's equipment, staff, performers or meeting participants. The customer is also responsible for the equipment and movable property he brings. The customer undertakes to follow the instructions of our staff in matters concerning the use of the house and furniture and equipment. The subscriber must nominate a person responsible for the event. The customer has no right to transfer or hand over the leased premises to a third party without the consent of Business Meeting Park Ltd.
highlight_offWhat are the cancellation policy?keyboard_arrow_up
credit_cardWhat are the payment methods and terms?keyboard_arrow_up
In the following, we use the payment methods and possible costs;
€ 0, - Advance invoice
€ 0, - Cash
€ 0, - Credit card (VISA, MasterCard, AMEX)
€ 5, - Post-invoicing by e-invoice or e-mail (pdf)
€ 10, - Post-invoicing by post
€ 10, - Additional invoice breakdown (once)
€ 10, - Invoice changes (once)
€ 10, - Payment reminders (once)
How can I make a reservation?keyboard_arrow_up
The booking situation and reservations can also be made independently directly using the real-time booking system found on this internet service here. No registration required. From there, you can also see the booking status of all meeting and workspaces in real time. Of course, we also serve and accept bookings on site, by email, phone and via the CHAT chat below.
Loyal customer benefits?keyboard_arrow_up
The fixed and predictable monthly charge includes all the basic services needed and selected by the customer (* optional) and the desired number of meeting and working facilities for free and significantly lower excess hourly rates.

- official address (without c / o) Mannerheimintie 20 B, 00100 Helsinki *
- processing of incoming and outgoing mail *
- own access keys (2 pcs) *
- teleworking points and rooms *
- meeting and training facilities *
- sauna and terrace (Forum) *
- secure Giga Internet connections (1 + 3)
- wired and wireless data networks (2)
- color laser printers and scanners
- color copies and prints (normal quantity)
- fax
- coffee / tea (self-service)
- kitchens with equipment
- dressing room and shower (Forum)
- lounge facilities
- reception service (weekdays 07-19 Forum and 08-16 others, as well as 24/7 by agreement and during external clients)
- technical support (week 08-18)
- security and video surveillance 24/7
Have more questions?
Open the CHAT conversation in the lower right corner of the window :-)