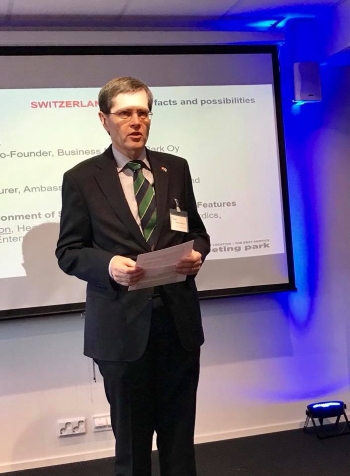 Swiss Business Forum on 7 November 2017 at Business Meeting Park Forum was opened by H.E. Mr Heinrich Maurer, Ambassador, Embassy of Switzerland in Finland. The seminar was co-organised with Finpro, FinnCham network, Chamber of Commerce Finland-Switzerland, Enterprise Europe Network and the Helsinki Region Chamber of Commerce.
"Switzerland – from Myths to Facts and Possibilities. How can my company access the Swiss Market?" gathered over 70 business experts from Finland, Switzerland, Sweden and India.
Switzerland is geographically in the center of Europe and represents an open, highly competitive, and innovative business environment. Switzerland's unique federal system of cantons is a boon to competitiveness, with the 26 cantons allowed to set their own attraction agenda. Digitalisation is a core strategic issue for the finance and banking sector and an important part of many other sectors like health care, too. The Swiss appreciate quality and are willing to pay for it.
The forum raised the topics of e.g. developing business and regulatory environment, the role of SMEs, better and updated knowledge of the Swiss market, and concrete experience on opening up business opportunities for Finnish companies.
The forum is one of the actions of the Helsinki Contact Point of of the Chamber of Commerce Finland-Switzerland. For more information on the Helsinki Contact Point at Business Meeting Park Forum, please contact Mr Gerrit van Setten, Representative in Helsinki of the Chamber of Commerce Finland-Switzerland or/and Dr. Jani Kaarlejärvi, Co-Founder, Business Meeting Park Oy.